Welcome to the Daniella Monet Wiki!
This is a collaborative wiki about Daniella Monet.
Who is Daniella Monet?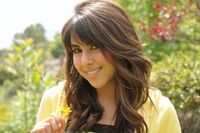 Daniella Monet (born Daniella Monet Zuvic; March 1, 1989) is an American actress, singer, and dancer, best known for playing various television guest roles and starring as Trina Vega, in the Nickelodeon sitcom Victorious. In 2011, she played Tootie in A Fairly Odd Movie: Grow Up, Timmy Turner!, and Bertha (in lieu of Jennette McCurdy) in Fred 2: Night of the Living Fred, then later reprised her role as Bertha in Fred: The Show. In 2012, she also appeared in the sequel to Grow Up, Timmy Turner, A Fairly Odd Christmas, reprising her role as Tootie.
Featured Video
Administrators
Need any help? Ask an admin!
Poll
Do you like Daniella's music?
Ad blocker interference detected!
Wikia is a free-to-use site that makes money from advertising. We have a modified experience for viewers using ad blockers

Wikia is not accessible if you've made further modifications. Remove the custom ad blocker rule(s) and the page will load as expected.